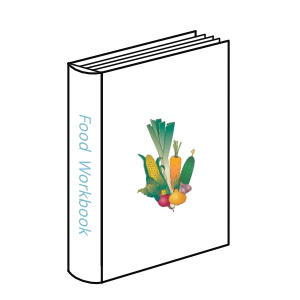 2.1 Meal Plan
2.2 Gathering Plan
2.3 Kitchen Space
2.4 Prep Skills
2.5 Cooking Skills
2.6 Storage Plan
2.7 Habitual Routines
2.1 Meal Plan
Let's build an all in one food budget, shopping list, and meal plan. The goal is to figure out where your money should be going and wether or not your shopping list aligns with goals and values.
This is where you list all the possible recipes with your budget, shopping list, goals and values all in mind.
If you value time over money you may opt for a service, or simply eating whole fruits and veggies most the day to save time on prep and money.
If your meal plan doesn't align with your food values, it's easy to fall off the wagon.
---
When making your meal plan, make sure you are getting in all your nutrients, a good way to tell is if you eat a variety of colors, and a variety of different foods and their variations.
If you want the most nutrients and flavor in your produce, head to your local organic farm stands, the ones with dirt still on the potatoes, beets and carrots with their leafy greens still on top.
Heirloom vegetables are also good to look for, they are all uniquely beautiful, maybe even a few insect bites here and there, certainly not perfect but incredibly flavorful.
Find A Farmers Market Near You!
Question
Is my food the freshest and purest it can be?
Is it in season?
Can I get it local?
Am I getting a range of nutrients? Do I eat a variety of colors?
Am I trying new things, or habitually buying the same thing every week?
What should I look, feel and smell for to know I'm getting the best crop?
Question the people who grow your food
Are you organic?
Do you use synthetic fertilizer?
Do you use harmful chemicals?
What type of water do you use to water your crops?
Login to view.
---
No Gathering Plans Yet
If you want to make better food choices for your health and budget you're going to need a sanctuary, a place to cook food that makes you feel comfortable.
This includes having a diligent kitchen cleaning routine.
Here are some of the steps you can make to create an awesome kitchen space.
Get rid of the old to make room for the new. If you have already opened food that you know doesn't make you feel comfortable or align with your goals, values, or vision get rid of it.
If you have unopened food or tools you don't need, donate or recycle them.
Clean and organize the cupboards, drawers, and refrigerator so you can see and get to everything you need easily.
Buy any tools you may need to make preparation and cooking easier. Buy all the ingredients from your meal plan shopping list.
Lastly write out all the steps and get to work!
2.4 Preparation Skills
What preparation styles do you like best? What is easiest for you?  Learn how to cut, blend, bake, roast, simmer, sauté, and more!
If you want to make healthy eating a habit you have got to learn to master food prep. Luckily it's an easy task.
Action
Schedule a day in your calendar to prep food for the week ahead.
Sharpen your knives.
Practice cutting fruits and veggies, use different techniques until you find your favorite. The more you observe and practice the better you'll get and the easier the process will become.
Learn how to cut specifically for each type of cooking style.
Practice Preparation Techniques
Roughly chop
Cube
Dice
Julienne
Mince
Shred
Slice
Soak
Sprout
Process/Blend/Puree
---
Notes
Please login to access your profile.
---
2.5 Cooking Skills
The hard part is planning your meal plan, budgeting,  making a list and getting everything rounded up; cooking is the fun part!
It's important to try different cooking methods to find your favorites, then experiment with flavors by adding different herbs and spices.
Once you find recipes and cooking methods that you love, add them to your meal plans.
Cooking Methods
Bake
Sautee
Steam
Boil
Blanch
Dehydrate
Ferment/Culture/Pickle
Stew/Slow Cook
Refrigerate
Pan-fry (limit fried foods)
Avoid
To retain maximum nutrients and flavor avoid these cooking methods as much as possible.
Microwaving
Deep Frying
Over-Cooking
Question
What is my favorite cooking method?

What is the most flavorful?
What is the best texture?
What is the easiest?
What is the quickest?
---
Notes
Please login to access your profile.
---
2.6 Storage Plan
Learning different storage methods and applying them to the proper foods will help eliminate food waste. It will also insure your produce stays fresh until your ready to eat it.
Storage Methods
Air-Tight Glass Containers
Reusable Veggie Bags
Paper Bags
Fermenting
Canning
Freezing (last resort)
---
Notes
Please login to access your profile.
---
2.7 Habitual Routines
Remember when you identified your current routine? Let's update it with your new routine based off of everything you've planned thus far.
Please login to access your profile.